FIRST ORDER: Opens May 26, 2022
Thank you so much for checking out my teacher planners. As many of you know, I have scaled back some of my planner options. I am excited to offer a fantastic and functional teacher planner.
Basic Pricing for Teacher Planners:
Monthly Planner – $30 includes all teacher pages + monthly spreads for August 2021-August 2022 with system calendars for Columbia County, Richmond County, or generic calendars
Weekly Planner – $38 includes all teacher pages + monthly spreads + weekly lesson plan spread for every week
Because of the scaled back offerings, all planners will use the cover shown above. All planners will feature a black spiral binding, clear protective front cover and black vinyl back cover.
Planner Contents:
School Calendar inside front cover* (You can choose from Columbia County, Richmond County, or generic)
Year at a Glance
Special Dates for the Year
To Do Lists (2 pages at front, 2 pages at back)
Birthday Tracker
Duties List
Log-in Tracker
RTI Overview (Student Name, Dates and Notes for Meetings) – 5 pages (20 students)
Student Checklist (Blank roster/chart for tracking forms or other student info) – 8 sets (8 classes/ 2 per quarter)
August 2021 – August 2022 Monthly Calendars (+ To Do List, Notes) – includes school dates from above
(WEEKLY ONLY) August 2021 – August 2022 Weekly Lesson Plan Spreads (Lots of space to write lesson plans, reminders, meetings, etc)
IEP Overview Charts (Track student, parent contact info, and brief notes on accommodations for students w/ special needs – tracks 20 students)
IEP Meeting Tracker (keep track of IEP expiration dates and meeting planning)
Parent Contact Logs (30 pg – multiple lines for each student to track multiple calls/emails)
Meeting Notes (40 pg – keep notes from conferences, faculty meetings, etc.)
Brainstorming (10 pg – multiple sections, graph paper, to jot down lesson ideas and reminders)
Notes (10 pg – misc notes)
Ideas for Next Year (4 pg – keep track of ideas for next year!)
Professional Development Tracker (2 pg)
Next Year Calendar – District calendar for 23-24 (*if available ahead of time) + special dates worksheet for future planning
All planners will feature the "Whimsy" style interior, using cute but highly readable fonts.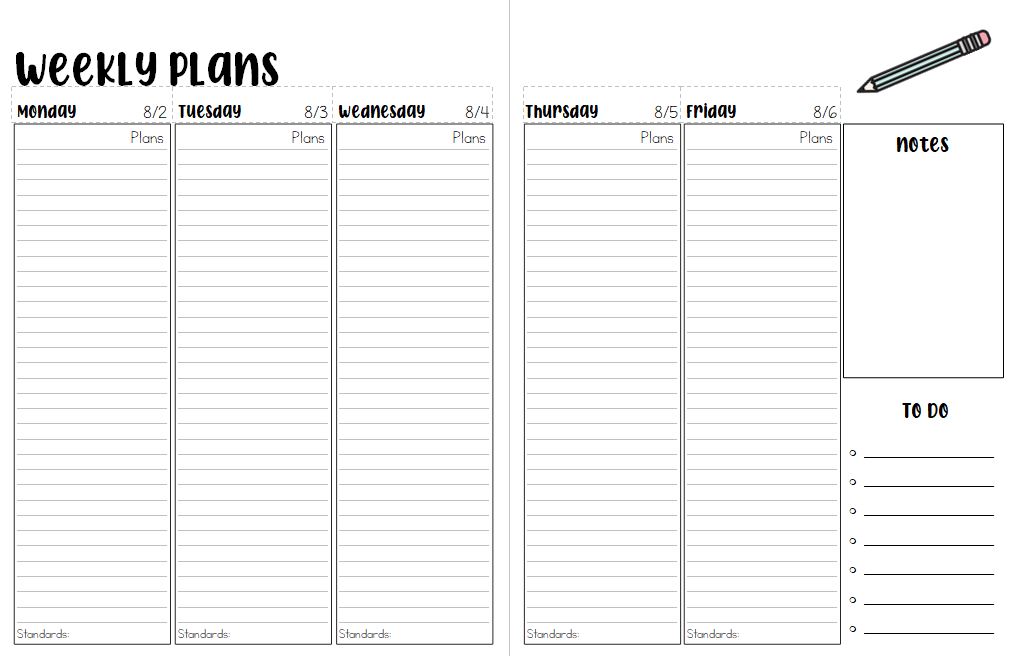 Weekly planners will feature the "Single Box" style for weekly spreads.
Thanks for reading all the way through. If you have any questions at all about anything here, please feel free to contact me through e-mail. However, orders should be submitted through the Shop. Here are a few last administrative things:
REFUNDS/RETURNS: You have seven days to cancel an order. Once printed, planners are non-returnable and non-refundable. If there is an error on my part, I will reprint the planner at my cost or make repairs/fixes as needed.
PICKUP/DELIVERY:
Sunday, July 24 | Time TBD (Tentative 12p – 3p)
Monday, July 25 | Sparkle Pop Home Office (12p – 3p)
Tuesday, July 26 | Sparkle Pop Home Office (3p – 5p)
EMAIL CONFIRMATION: Please provide an email that you will check frequently over the summer. You should receive an automated confirmation email after you order. If you don't, please check your spam folder and make sure you mark it as "not spam!"
SHIPPING: You will be provided an option for local pickup or two-day shipping. Please note that this is not like Amazon Prime Two Day Shipping! 🙂 I cannot have a planner ready for you and shipped to your home within 48 hours of ordering. Selecting two day shipping means that your planner will be printed and processed with my next large order. When I receive my order from the printer, I will then ship your planner to you using two-day shipping.