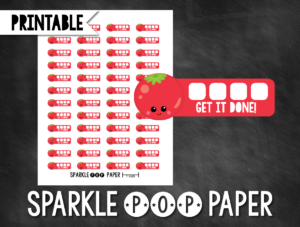 Have you ever used the Pomodoro technique for productivity? I love it for getting myself focused on a task that's going to take a while. The basic idea behind a Pomodoro (which is Italian for tomato – the creator used a tomato kitchen timer) is working for timed sessions and taking a short break.
Here's a little rundown from LifeHacker:
Choose a task to be accomplished.
Set the Pomodoro to 25 minutes (the Pomodoro is the timer)
Work on the task until the Pomodoro rings, then put a check on your sheet of paper
Take a short break (5 minutes is OK)
Every 4 Pomodoros take a longer break
It can be really helpful when you have a big task and need to get long work sessions in. These little Pomodoro stickers will help you track your work!
These stickers are a little smaller than 1.5 inches wide so they should work in an Erin Condren or MAMBI Happy Planner.
I create most of my stickers with an offset, but these are already EXACTLY the right size . If you have a cutting machine (Silhouette or Cricut), don't do an offset here. If you cut by hand, just cut on the lines and you're golden.
When you print, be sure that you tell your printer not to scale. Select "Print Actual Size," or whichever option your printer gives that prints true to size. Do not "Fit to Page" or anything, as it may print the wrong size. The sheets have a scale on the bottom.
And one last thing! These stickers are for your personal use. You may not resell them or claim the design as your own, whether my original or with your own alterations. However, if you would like to share with friends, that's awesome! Just make sure to leave the watermarks on the files, and please throw a link back to either my website or to my Etsy. Thank you!
Now what you were really waiting for…here's the PDF, or you can click the image below!